Kinetic Services
Many companies offer services for kinetic measurements or other measurements related to binding interaction or molecule characterization. Some companies offer one technique other a whole range of complementary techniques. On this page a list of companies and the services they provide.
Let me know about the companies which should be listed here by contacting the BIApages.
The BIApages are not affiliated to any company although we have good contacts within the field. Are you a vendor and do you want to be listed on the BIApages, please use this document.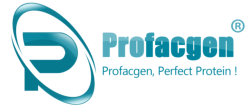 Profacgen has organized a team of scientists with extensive experience in the study of PPIs to offer you one-stop service on your PPI project. We can help with your experiment design, carry out your experiments, and perform data analysis. We have established in our lab a series of assays to help with your research, including high throughput interaction screening assays such as Yeast two-hybrid screening and phage display technology, interaction strength and kinetics assays such as Surface Plasmon Resonance (SPR). Each approach has its own advantages and weaknesses in terms of sensitivity and specificity.
Isothermal Titration Calorimetry
Profacgen's service is powered by our best knowledge of physical chemistry and structural biology, as well as advanced analysis instruments, including MicroCal iTC200. Profacgen offers professional one-stop services for isothermal titration calorimetry measurement:
High sensitivity for binding constant as low as nM
Small sample quantities as low as 20 µM
Full service packing from sample preparation to data analysis
Regular ITC assays
Data fitting and interpretation
Quantification and characterization based on molecular mechanisms
Bio-Layer Interferometry
Profacgen provides label-free and real-time BLI analysis of a wide range of interacting molecules. Our analysis system supports high throughput protein characterization and screening. It has been proven to be reliable by clients from pharmaceutical and diagnostic industry as well as from academia.
Applications:
Protein quantitation in the analyte
Binding specificity and cooperativity determination
Affinity and Kinetics analysis (measurement of reaction rate constants (kobs, ka, kd) and binding affinity constant (KD))
Our BLI service advantages:
Best price in the market
Short turn-around time
Consistent analysis results
Highly experienced team